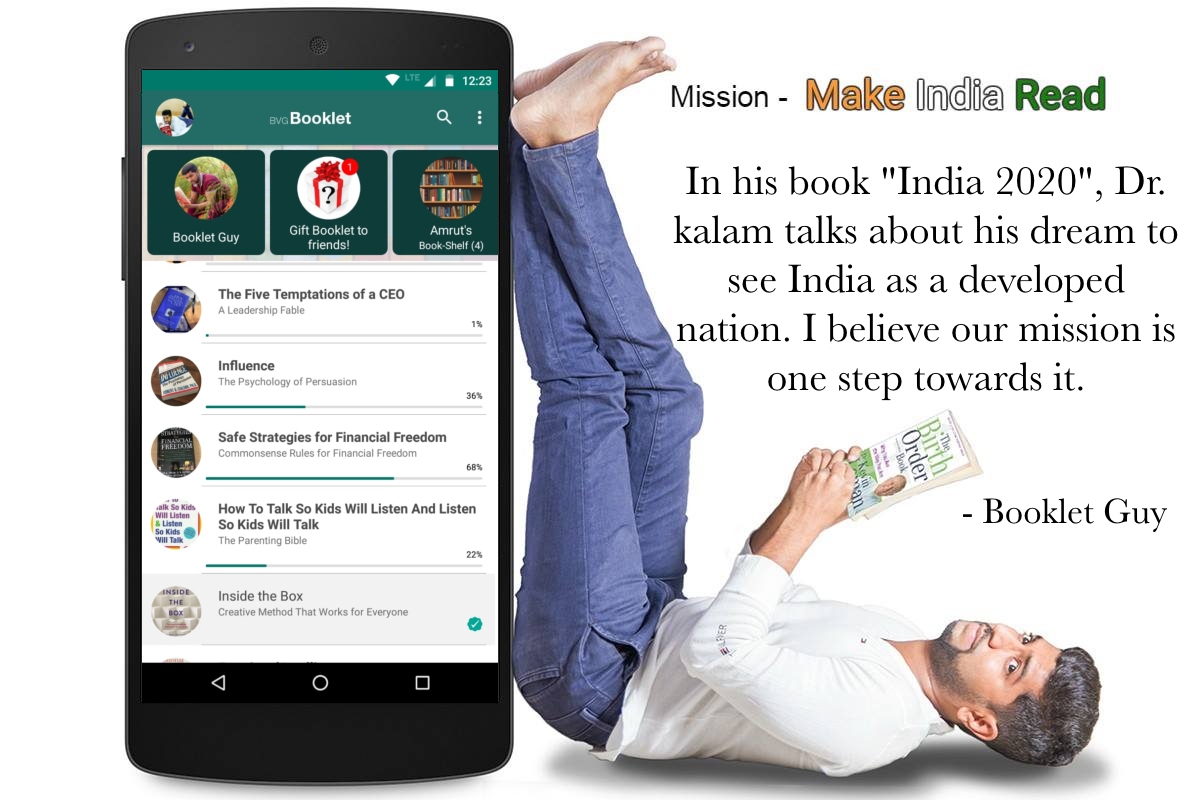 Technology is really transforming Knowledge Sharing? Want to see how let's have a look at?
In the early days, people used to gather knowledge from various sources like listening, painting, communication but one of the most famous is the Book, which is a famous model of knowledge sharing. These were the tools of knowledge sharing at the time of their own flourishments.
Have you ever thought that books can be online one day?
Kindle is the famous online platform which made books read online with all flexibility available, it enabled readers' life easier and made them gain knowledge unstoppable.
But there is always the next step, a new update when it comes to technology! What is next?
What has changed now?
The tools of knowledge sharing have drastically transformed after the mid-nineties and today it's really very advanced. One of the masters of quick knowledge sharing is booklet guy Mr.Amrut Deshmukh.
Yes really he is a real agent of change in society by the way of sharing books synopsis on the easy mobile application, when Amrut inspired by this unique idea, in quick time he started whatever sources he had and shared the audiobook synopsis on WhatsApp with like-minded readers friends. In a short time with his unique mission to make India read, Amrut came to be known as "Booklet Guy" finger crossed. The booklet guy letter gained tremendous popularity for this great knowledge sharing and gaining idea in society.
Once again in a history of book reading Amrut Deshmukh, the booklet guy wrote a new chapter & proved that if your Goal is Crystal clear no one can stop you no matter you have a system or money with you, success is always next to you. He merely started with WhatsApp and now he has launched his own website and mobile application which has been downloaded by more than one lakh readers. This much read class he has achieved in less than three years makes this startup one of the fastest-growing amongst the target class.
Defining your crystal clear objective before starting your project is very important, Amrut has made it very simple from his mission in one statement: Make India Read. Booklet mobile application is very easy to use with minimal functionality. Interesting content of books along with simple UI and UX makes reading and gaining knowledge more interesting.
Let's hope this application is really gaining popularity amongst youngsters along with elders as it saves your time and makes a pool of books available from around the globe at one single place where you get access to more genres.
Booklet Website link: https://bookletguy.com/
Booklet Mobile Application link: https://play.google.com/store/apps/details?id=com.booklet.app
Facebook Page: http://facebook.com/bookletguy1
Instagram Page: http://instagram.com/amrutdeshmukh
Dynamic Vishva