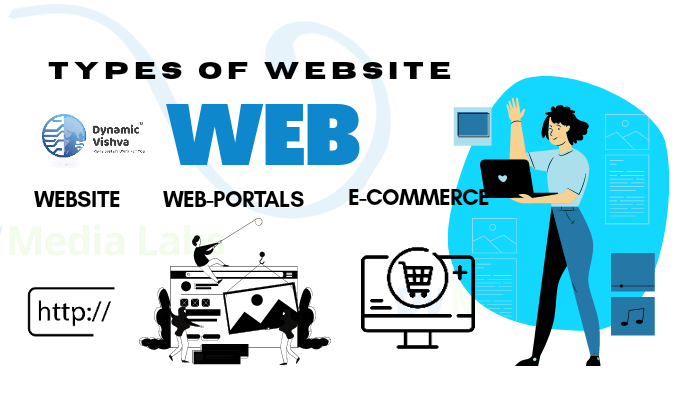 Is there any difference between Websites, Web Portals, and E commerce websites?
There is a lot of confusion about web solutions where people do consider websites the same as e-commerce or web portal. There is a real difference between all the concepts.
Before we go into the main concepts of these three solutions, we need to understand the Objective and Target class. So let's understand in detail:

Website
Website is being used for showcasing your business presence Online where your potential customer will visit just to confirm your authenticity or your potential customer will connect with you to do business with you. Also remember one key area that website is further divided into Static and Dynamic website where Static website will have only showcase of information and Dynamic website will have continuous data upload from backend along with admin panel.
As the name suggests static websites are generally being used by new business startups to showcase their new business presence to showcase their online availability. Dynamic websites have been used by the big business houses, public limited companies, private companies, government departments etc to make information available regularly.

Web-Portals
Web portals do work on specific objectives or purposes targeted at specific user bases. It's more like knowledge generators or idea-driven forums targeted towards the engagement of their crowd in between.
For more understanding about the portals we can take examples of Quora, Facebook, LinkedIn, Pinterest etc. As we can understand the use of these portals is that they are not simple websites as well as not e commerce websites too, they are simply driven by the objectives of knowledge, socializing, job or professionals at a single platform for millions of users being part of it. Data, servers, and appearance of the web portals is very object driven also it tries to define is differentiation.

E-Commerce
The primary objective is to sell online products or services in some cases. E-commerce the name suggests online trade. We are quite aware of big giants e-commerce web portals like Amazon, Alibaba, Flipkart, eBay are some of the best examples of online trade.

Here the pool of data of customers, products, and the number of pages of the website is so huge that it gives a pleasant experience to the customers who buy from these portals. Of course as per the extensive data and speed of browning the server used is highly configured and is subject to security along with proper backup facility.

There is small e-commerce as well. With proper local search and presence, even these websites can create a business in multi-fold which requires proper skillets, planning, target focus, line of products, etc.

Now, as we all know the kind of website concepts above where everyone is targeted at, hope this will help you find out what's your purpose?


Rahul Waghmare